Retaining Southern Brown Bandicoots in urban growth areas, green wedges and rural landscapes to the south east of Melbourne
The Southern Brown Bandicoot is an endangered species in Victoria and is a species of national environmental significance. Some of Melbourne's south-eastern suburbs, urban growth corridor, green wedges and rural landscapes contain populations of, and habitat for, the bandicoot. Unfortunately, urban development, habitat loss and fragmentation and bandicoot-unfriendly practices mean that the health and viability of these wonderful local native animals is at risk.
However, there is an opportunity for many organisations and local communities to work together to achieve:
Widespread, healthy, resilient, viable bandicoot populations in urban, peri-urban and rural areas
Habitat pathways that enable dispersal between major habitat blocks and bandicoot population nodes
Local human communities having regular interaction with, understanding, valuing and fostering their local bandicoot populations.
Bandicoots in our Backyards is a project concept that would have multiple components:
Maintenance and improvement of existing bandicoot habitat in parks, reserves, roadsides, waterways, etc.
Active care for resident bandicoot populations to maintain their health and viability

A genetic study to better understand the different populations in the area

, and potential future translocation programs to boost the size, range and genetic diversity of populations
Creation of new bandicoot habitat in appropriate urban and peri-urban areas (eg. bandicoot-friendly vegetation in house yards and along paths, roadsides, etc.) and creation of significant new habitat and connections across rural areas (eg. using incentives for landholders to participate in development of major new biolinks across landscapes and between existing bandicoot habitats)
Potential land purchase adding to the public reserve, and covenanting of private land to increase the area of permanently-protected bandicoot habitat
Bandicoot-friendly suburb design and management, providing the realistic opportunity for residents in new suburbs to regularly see, interact with, value and actively foster local populations of bandicoots
Coordinated pest management programs involving multiple stakeholder organisations and landholders to achieve targeted, long-lasting, cost-effective predator control, including for example feral cat removal and urban community education to promote better management of domestic cats
A range of community engagement activities to increase communities and landholders knowing about, understanding, experiencing, valuing, supporting and fostering local bandicoot populations
A regular 'report card' published and provided to the local community reporting against a set of key indicators covering progress with this project and the health of the bandicoot populations across the area
Focused effort and improved coordination amongst key players to achieve the points above through a multi-stakeholder Coordination Committee and dedicated project officer(s).
This project would make a major contribution to achieving the desired outcomes of the Sub-regional species strategy for the Southern Brown Bandicoot that was produced in response to obligations associated with the Melbourne Strategic Assessment and approval of new urban development in the south eastern growth corridor.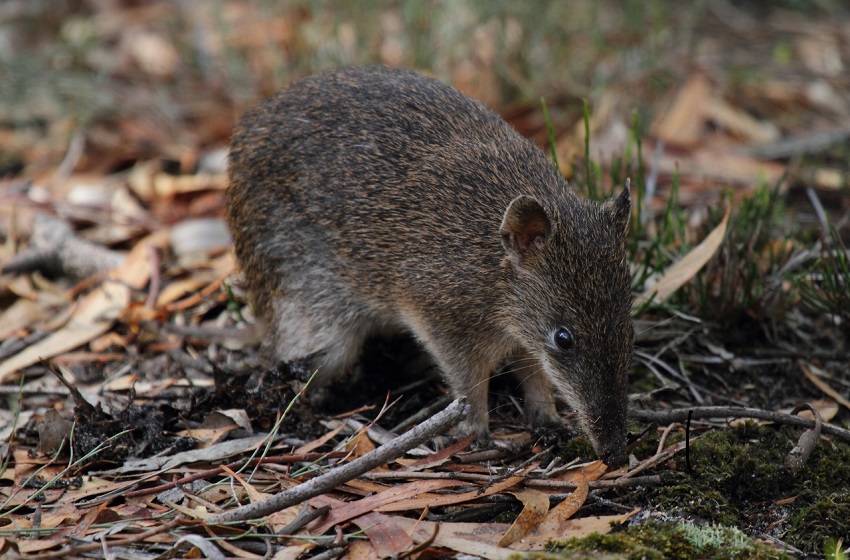 Themes and Local Areas
| | |
| --- | --- |
| Primary Theme: | Native Animals |
| Other Themes: | Native Vegetation, Land Use, Communities |
| Primary Local Area: | Casey, Cardinia & Baw Baw |
| Other Local Areas: | Mornington Peninsula |
| Project location: | Urban growth corridor, peri-urban, green wedges and rural areas of the Casey, Cardinia and Mornington Peninsula Council areas |
| Scale of the project: | Landscape |
| New or continuing work: | Building on previous work by DEECA, Councils, community groups and others |
Project partners
| | |
| --- | --- |
| Lead organisation: | Melbourne Water |
| Key partners: | It is anticipated that the membership will include representatives from organisations such as Department of Energy, Environment and Climate Action (DEECA), Victorian Planning Authority, Parks Victoria, Cranbourne Botanic Gardens, Zoos Victoria, Casey City Council, Cardinia Shire Council, Mornington Peninsula Shire Council, Bunurong Land Council Aboriginal Corporation, Western Port Biosphere Foundation and relevant local community and Landcare groups |
| Registered Aboriginal Party/s relevant to the project or its area: | Bunurong Land Council Aboriginal Corporation |
Investment opportunities
| | |
| --- | --- |
| Opportunities for investors within this project start from: | $$$ (Hundreds of thousands of dollars) |
| Estimated scale of investment for full project implementation: | $$$$ (Millions of dollars) |
| Estimated timeframe for full project implementation: | 2-10 years |
Contribution toward targets
Primary Regional Catchment Strategy targets and contribution towards their achievement:
Native Animals – Wild populations of all threatened native animal species in the region are retained and their populations are self-sustainable, secure, healthy and resilient

Native Vegetation – Significant, sustained revegetation programs have been undertaken from 2021 to 2050 and have created numerous major biolinks in priority locations across the region.

Community – Over two million people participate annually in natural resource management events and activities conducted by relevant agencies, councils and community groups across the Region.
Relevant Biodiversity 2037 goal:
Protect or assist one or more critically endangered or endangered species/community of native vegetation or native animal

Relevant National Landcare Program priority:
Soil/biodiversity – Projects that will protect and enhance on-farm remnant native vegetation
More information
https://www.msa.vic.gov.au/__data/assets/pdf_file/0030/64866/Sub-regional-Species-Strategy-for-Southern-Brown-Bandicoot-Jan-2014.pdf