The 'lungs' of Melbourne
Less than an hour from Melbourne, the Yarra Ranges and Nillumbik region is renowned for its natural beauty and diverse landscapes. Boasting areas of significant native vegetation, forested mountains, rural valleys and waterways, this region makes up a critical part of Melbourne's water supply catchment.
Set in the foothills of the Great Dividing Range, the natural environment of the Yarra Ranges and Nillumbik region is one of Melbourne's greatest assets – helping to provide the air we breathe, the water we drink, the soils that grow our food, and the habitats that are home to indigenous wildlife.
The Yarra Ranges and Nillumbik region are some of the most environmentally important areas in the Port Phillip and Western Port Region, including the Mountain Ash forests of the Dandenong Ranges and Central Victorian Highland – home to iconic species such as the Powerful Owl, the Helmeted Honeyeater and Leadbeater's Possum.
The richness of the region's agriculture has made it an important food production area for Victoria. It was Victoria's first wine growing district with a history stretching back 170 years and is known as the birthplace of Victoria's wine industry.
It also supports a range of other horticultural activities including nursery plant production, flower growing and orcharding. Livestock grazing especially for beef cattle breeding and fattening is the dominant agricultural activity in the areas of cleared pastures.
The region is a popular destination for local and international visitors alike who are attracted to the national parks, State forests, recreational trails and well known attractions such as the Puffing Billy Railway and the Healesville Wildlife Sanctuary.
The Yarra Ranges and Nillumbik areas are also of high cultural significance to the traditional custodians, the Wurundjeri people who share spiritual connectedness to the land. For at least 40,000 years, the Wurundjeri Woi-wurrung people have been the traditional custodians of this land. Evidence of their rich cultural heritage and deep spiritual connection to this country can be found throughout the region.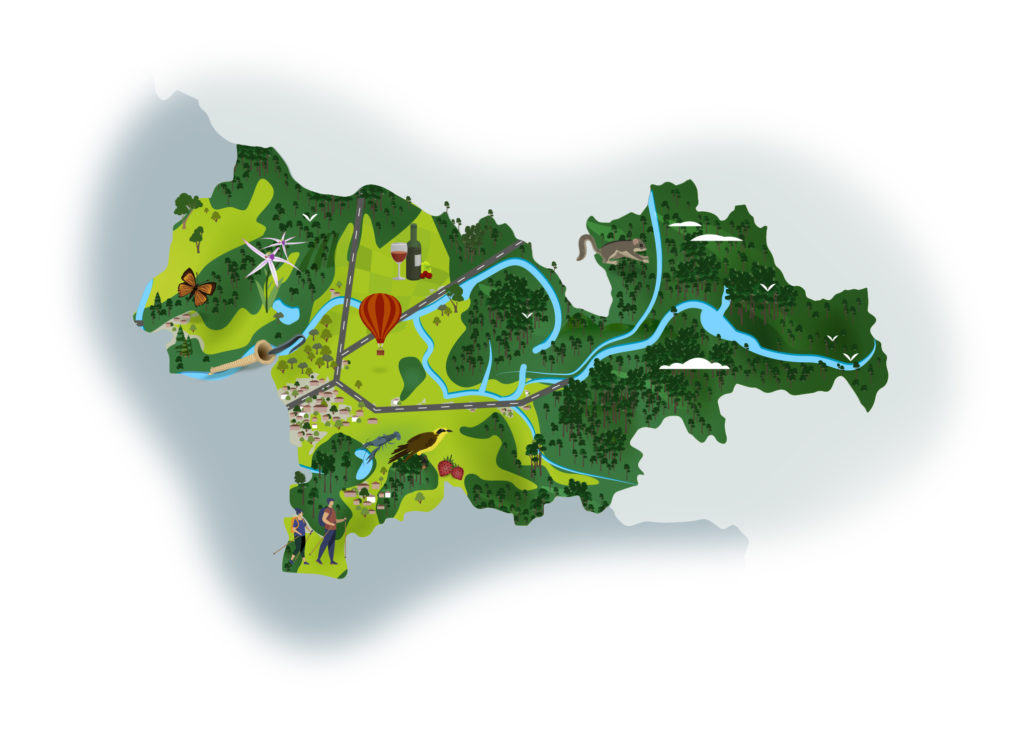 The condition of our environment now
The Yarra Ranges and Nillumbik area has been Kulin Nation Country for more than 40,000 years. The Wurundjeri Woi-Wurrung Cultural Heritage Aboriginal Corporation is the Registered Aboriginal Party for most the Nillumbik and Yarra Ranges area, and there is increasing recognition, respect and support for Wurundjeri people to protect, reintroduce and strengthen their cultural heritage.
Land use
Today the Yarra Ranges and Nillumbik area is a combination of peri-urban areas, bushland, forest, rural landscapes and townships, with the Birrarung (Yarra River) as a defining feature flowing through the region. Covering an area of 264,786 hectares, approximately 96% of the Yarra Ranges and Nillumbik area is rural (mainly farmland or native vegetation) and approximately 4% is urban. This retention of a high proportion of 'green space' has been a foundation for maintaining the region's social, environmental and economic values, and has been strongly planned for, monitored and defended by each Council in policy and planning mechanisms including ensuring 95% of the local area is defined as 'Green Wedges' outside of the Urban Growth Boundary.
Agriculture
The gross value of agricultural production in the Yarra Ranges and Nillumbik region in 2015-16 was $280 million with the main industries including fruits, nuts, vegetables, nurseries and wine.
The area includes the renowned Yarra Valley famous for its vineyards, wineries and restaurants set amongst the hills and Yarra Ranges, as well as diverse, productive horticulture.
Various artisan and value-added businesses continue to emerge alongside established farming enterprises.
| Agriculture data from 2015-16 | Yarra Ranges & Nillumbik |
| --- | --- |
| Area of Yarra Ranges & Nillumbik (Hectares) | 264,786 |
| Area of agriculture (Hectares) | 62,140 (23%) |
| Number of farms | 769 |
| Employment on farms | 3,246 |
| Gross value of annual agricultural production ($) | $280 million |
| Main agricultural commodities | Fruit and nuts, vegetables, nurseries |
The Yarra Ranges & Nillumbik area generally has high levels of vegetation cover on its soil. Over the whole area, the proportion of exposed soil has been below 5% for most years since 2000, as shown in the graph below, which is very low and indicates that most of the land remains covered and protected by vegetation (including pasture) at all times. This tends to protect the area from the threat of widespread wind erosion of its soil.
Proportion of exposed soils for the area from 2000 to 2020 (data from Australian National University)
Biodiversity
Whilst the Yarra Ranges and Nillumbik area's natural environment has undergone significant modification since European settlement, large patches of native vegetation remain across the area with 73% of the original extent of native vegetation remains. Native vegetation across the region has largely been retained in the forested upper catchments, through parks and reserves and on private land within the Green Wedge areas. Major projects such as the Rivers to Ranges project across the Warrandyte to Kinglake Habitat Corridor and the Yellingbo Landscape Conservation Area are working to protect, create and enhance native vegetation across the region.
Nillumbik Shire Council's Biodiversity Strategy (2012) says that within Nillumbik there are over 1,000 indigenous flora species, 64 of which are listed significant species such as the Rosella Spider Orchid. Supporting and often relying upon these plants is an equally impressive array of 342 indigenous fauna species, 63 of which are listed significant species including the distinctive Brush-tailed Phascogale, Lace Monitor, Common Dunnart, Sugar Glider, Wedge-tailed Eagle, Eltham Copper Butterfly and Platypus.
Within Yarra Ranges Council some 1,432 indigenous plant species have been recorded of which 112 are listed as rare or threatened and six species are nationally significant for example the Buxton Gum and the Maroon Leek Orchid. The Yarra Ranges is also home to 408 fauna species of which 92% or 375 are indigenous to the Shire. 62 are listed as Rare or Threatened in Victoria and 41 are listed as nationally significant under the Environment Protection and Biodiversity Conservation Act 1999 including the Helmeted Honeyeater, and Leadbeaters Possum.
A similar picture of decline in native animal species in response to habitat loss, pest predation and other factors is indicated in an analysis of animal sighting data that calculated the probability that each species of native birds, mammals, amphibians, reptiles and fish was persisting at the end of 2016.
The analysis indicated that, for the Yarra Ranges and Nillumbik area, only around 78% of the total number of species recorded here are still persisting. In general, the diversity of native fish and reptile species seem to been most affected.
Further losses can be expected due to extinction debt.
| Native species | Number and proportion of species likely to be persisting (at 2016) |
| --- | --- |
| Birds | 228/277 (82%) |
| Mammals | 37/46 (80%) |
| Amphibians | 11/14 (79%) |
| Reptiles | 22/37 (59%) |
| Fish | 13/26 (50%) |
| Total | 311/400 (78%) |
Threatened species are considered to be priorities for local protection and recovery work. In many circumstances, work to protect and enhance their health and resilience will also benefit other native animal species and the local habitat. The following table shows some of the threatened species and ecological communities that have been recorded in this area. A full list of the threatened species known to occur in this region since 1980 is available at the Data tables section of this strategy.
Threatened species known to occur in the Yarra Ranges & Nillumbik area
| Group | Species |
| --- | --- |
| Birds | Australasian Bittern, Barking Owl, Black Falcon, Blue-billed Duck, Caspian Tern, Eastern Great Egret, Freckled Duck, Grey Goshawk, Helmeted Honeyeater, Little Egret, Magpie Goose, Powerful Owl, Regent Honeyeater, Sooty Owl, Square-tailed Kite, Swift Parrot, White-bellied Sea-Eagle, White-throated Needletail |
| Mammals | Brush-tailed Phascogale, Eastern Bent Winged Bat, Eastern Horseshoe Bat, Greater Glider, Grey-headed Flying-fox, Leadbeater's Possum, Smoky Mouse, Spot-tailed Quoll, Platypus |
| Reptiles | Broad-shelled Turtle, Swamp Skink |
| Amphibians | Brown Toadlet, Growling Grass Frog, Southern Toadlet |
| Fish | Australian Grayling, Macquarie Perch, Murray Cod |
| Invertebrates | Dandenong Burrowing Crayfish, Dandenong Freshwater Amphipod, Eltham Copper Butterfly, Golden Sun Moth, Sherbrooke Amphipod |
| Flora | Bacchus Marsh Wattle, Clasping Hypocreopsis, Clover Glycine, Crimson Spider-orchid, Fairy Lanterns, Matted Flax-lily, Rosella Spider-orchid, Round-leaf Pomaderris, Shiny Nematolepis, Silver Gum, Slender Tree-fern, Tall Astelia, White Star-bush, Charming Spider-orchid, Christmas Spider-orchid, Large-flower Crane's-bill, Tall Astelia |
| Ecological communities | Alpine Sphagnum Bogs and Associated Fens, Subtropical and Temperate Coastal Saltmarsh, White Box-Yellow Box-Blakely's Red Gum Grassy Woodland and Derived Native Grassland, Cool Temperate Mixed Forest, Cool Temperate Rainforest, Limestone Grassy Woodland, Sedge-rich Eucalyptus Camphora Swamp |
Waterways
The Yarra Ranges and Nillumbik region spans parts of both the Yarra and Dandenong major catchments and includes the main river and creek systems of the Diamond Creek, Arthurs Creek, Watsons Creek, Steels Creek, Watts River, Yarra River, Little Yarra River, Woori Yallock Creek and the headwaters of the Dandenong Creek.
The region also includes some of the Port Phillip and Western Port region's major water storage reservoirs including Sugarloaf Reservoir, Maroondah Reservoir, Upper Yarra Reservoir and Silvan Reservoir which supply fresh drinking water to Greater Melbourne.
Rivers and wetland conditions and conservation strategy for the area are described in the Yarra and Dandenong catchment chapters of the Healthy Waterways Strategy. Yarra catchment waterways generally have a moderate to high rating across a range of key environmental values and waterway conditions. The best conditions are found in rural and forested reaches of streams on the southern slopes of the Great Divide. In the Upper Dandenong Creek Sub-catchment moderate to high ratings have been determined as averages for key environmental values and waterway conditions due to being located mostly in the forested slopes of the Dandenong Ranges National Park.
| Waterway values | 2018 state | 2018 trajectory | 2068 target |
| --- | --- | --- | --- |
| Birds | Moderate | Moderate | Moderate |
| Fish | Low | Moderate | High |
| Frogs | Low | Low | Moderate |
| Macroinvertebrates | High | High | Very high |
| Platypus | High | Moderate | High |
| Vegetation | Moderate | Low | Moderate |
| Amenity | High | High | Very high |
| Community connection | High | Moderate | High |
| Recreation | High | High | Very high |
| Waterway conditions | 2018 state | 2018 trajectory | 2068 target |
| --- | --- | --- | --- |
| Stormwater | Moderate | Low | High |
| Physical form | High | Moderate | High |
| Water for the environment | High | Moderate | High |
| Vegetation quality | Moderate | Low | High |
| Vegetation extent | High | High | High |
| Instream connectivity | Moderate | Moderate | High |
| Water quality - environment | Moderate | Moderate | High |
| Access | Low | Low | Moderate |
| Litter | High | Moderate | High |
| Water quality - recreational | High | High | High |
| Participation | Moderate | Low | Very high |
Community action
The Yarra Ranges and Nillumbik region has a vibrant and active network of Landcare, friends groups and other environmental volunteers who work to protect, enhance and restore the natural environment. There are 24 active Landcare Groups across the region, with four Landcare Networks. Based on data from a 2019 it is estimated that the groups and networks collectively have around 1,1015 members and volunteer around 24,157 hours per year for Landcare activities that benefit the environment, landscapes and community. This volunteering is worth in the order of $814,332 per year.
Community volunteers are also active in numerous Friends groups, Committees of Management and other volunteer organisations across the sub-region. There are an estimated 76 organisations providing 18,446 volunteer hours worth $621,815 per year.
More detail is in the Community volunteering data table.
Challenges we face
Green Wedge protection
Known as the lungs of Melbourne, the Nillumbik and Yarra Ranges Council areas make up two of 12 Green Wedge areas surrounding Melbourne. Conflict at the interface between urban and non-urban land uses is not uncommon, and land adjoining these areas is often left vacant, or not properly managed in the hope of possible future urban expansion. Consistency, certainty and stamina is needed from local councils, governments and agencies in order to champion and enforce Victorian Government policy to protect green wedges from inappropriate land use and development.
Climate change
The Climate Change in the Port Phillip & Western Port Region report identifies risks and responses to warmer, drier conditions and rising sea levels across the region. Hotter and drier climates, less spring rainfall and more frequent extreme weather events across the Yarra Ranges and Nillumbik area will have a marked impact on biodiversity, communities and agriculture across the region. Of particular importance to these areas are:
Increased frequency and intensity of wildfire (altered fire regimes)
New and emerging environmental weeds and pest animals
Altered phenology of flora and fauna (e.g. timing of flowering, breeding)
Decreased stream flows and loss of ephemeral waterways
Reduce stream flows into water supply catchments
More extreme weather events such as storms, floods and heatwaves
The urban heat island effect will be an issue for Melbourne. Current development of growth areas to support Melbourne's future population will see more people exposed to extreme urban heat levels and significantly increase the number of heat-vulnerable communities.
Climate Risk Assessments developed by the three Local Government-based Alliances for Greenhouse Action, the Eastern Alliance, the Northern Alliance and the Western Alliance find:
Vulnerability to climate change is compounded for newly arrived migrants, the aged and young children and people living in relative poverty, in sub-standard housing or with poor English
Lack of understanding of local flora and fauna species responses to climate change is hampering timely and effective investment and action for biodiversity conservation
Social and policy pressures for larger fire breaks and more fuel-reduction burning is impacting biodiversity and air quality
Changing wildfire frequency and intensity in warmer, drier conditions is damaging biodiversity and increasing demands for fire-management effort
Fire agency management planning often conflicts with the environmental protection goals and targets of local, regional and state environment strategies.
Pest plants and environmental weeds
Pest plants and environmental weeds are a major threat to the area's natural environment. Once established, they grow vigorously because they have few natural predators or diseases to control them. They change and destroy habitats and ecosystems, outcompeting indigenous plants for light, nutrients and water. This leaves our wildlife without food and habitat, leading to the decline of our native animals.
Many pest plants are spread from domestic gardens. Seeds are spread by birds and animals or by people dumping garden cuttings into our bush and waterways.
Pest animals and predators
The introduction of exotic plants and animals has had significant consequences for the area's native animal and plant species. Pest animals significantly impact on native plants and animals and their habitats. Foxes and cats, in particular, are exceptional hunters and are the primary cause of the decline and extinction of many smaller native animals.
Other pest animals including rabbits and deer directly compete with native wildlife for food and shelter, damage native vegetation and degrade the land, while introduced fish species compete for food and prey on native fish, tadpoles and frogs.
Pathogens
Pathogens such as Cinnamon Fungus (Phytophthora cinnamomi) and Myrtle Rust (Uredo rangelii) can have widespread and devastating impacts on a range of plant species across Yarra Ranges and Nillumbik impacting both indigenous flora, agricultural plants and nursery production.
Changing fire regimes, frequency and intensity
Traditional Owners have used fire as an ecological management tool for more than 40,000 years, understanding that Australian plant and animal communities rely on 'regimes' of fire intensity, frequency, season, extent and type to regenerate and maintain health and diversity. Fire regimes create food, shelter and breeding sites for native animals.
Changing fire regimes caused by climate change and human intervention through the 20th Century means some native plant and animal communities have been unnaturally insulated from fire, while others have been exposed to more frequent burning.
A drier future climate will increase the likelihood more frequent and severe wildfire, like those experienced across south east Australia in the summer of 2019-20 where an estimated 1 billion native animals were killed.
The Victorian Climate Change Adaptation Program predicts the number of 'extreme' fire danger days is expected to increase by by between 20% and 135% by 2050.
Incremental damage and clearing of native vegetation
Incremental damage to the area's native vegetation has been caused by illegal clearing, vandalism, informal vehicle tracks, firewood collection and rubbish dumping. Incremental clearing at the edges of remnant patches and of individual trees is expected to continue. Some losses will be prompted by factors such as wildfire control strategies, increasing residential development and incremental Europeanisation of the landscape (eg. landscape tidying and gardening). This can result in fragmentation of habitat and directly affect biodiversity.
Increasing residential development pressure
Located on Melbourne's urban fringe, residential development of previously vacant blocks and subdivision of existing larger residential blocks is a key threat to biodiversity and rural land use across these regions. These processes result in loss of remnant vegetation and increased pressure on native flora and fauna through increased weeds, modification of hydrology, the introduction of exotic pest animals and implementation of land management required to reduce fire threats. Increasing residential development of these areas also leads to a reduction of suitable agricultural land for food production.
Supporting Wurundjeri Woi-wurrung connection with Country
There is a challenge to strengthen the role and influence of traditional ecological knowledge and practices in today's natural resource management programs, where that is allowed and offered by Traditional Owners.
There are currently relatively few Aboriginal people who have jobs taking care of Country in this region, with the exception of some outstanding examples such as the Wurundjeri Narrap Team. There is a challenge in providing timely, tailored support for Registered Aboriginal Parties and other Aboriginal organisations so they can determine their aspirations and build their workforce to suit their aims with the appropriate range of skills.
Traditional Owners' rights to water have largely been excluded from water planning and management policies and programs. Without water rights, Traditional Owners are unable to decide where or how water can be used to support cultural, spiritual, environmental or economic outcomes. There is an opportunity to address this in water planning and securing water allocations for Registered Aboriginal Parties to enable cultural watering.
Policy and planning
A range of policies and plans are in place to protect and enhance the area's cultural, social, environmental and economic values and address the challenges that lie ahead.
Plan Melbourne 2017-2050 is the main integrated land-use, infrastructure and transport plan published by the Victorian Government. It aims to support economic growth and protect liveability and sustainability across metropolitan Melbourne. As part of its implementation, Land Use Framework Plans are being developed to guide strategic land-use and infrastructure development for the next 30 years in six metropolitan Melbourne regions including:
The management of land, water and biodiversity in the Yarra Ranges & Nillumbik area is overseen principally by its three councils, Melbourne Water, Parks Victoria, the Department of Energy, Environment and Climate Action and EPA Victoria along with landholders and other authorities, organisations and community groups. 
Yarra Ranges Shire Council has numerous policies and strategic plans in place relevant to land, water and biodiversity management including
Nillumbik Shire Council also has numerous policies and strategic plans in place relevant to land, water and biodiversity management including:
Other significant strategies and plans in place include the:
The Yarra Strategic Plan developed by the Victorian Government as prescribed in the Yarra River Protection (Willip-gin Birrarung murron) Act 2017, gives effect to a long-term community vision for the river and provides an integrated river corridor plan that will enable the collaborative management of the river and its parklands across public agencies. The development of the plan was coordinated by Melbourne Water in collaboration with Traditional Owners, the Department of Energy, Environment and Climate Action and various other organisations. Extensive community engagement was also undertaken. 
Climate Risk Assessments have been developed by the three Local Government-based Alliances for Greenhouse Action, the Eastern Alliance, the Northern Alliance and the Western Alliance.
Traditional Owners are the voice of their Country
For all policy and planning, there is a need for recognition and inclusion of Traditional Owner knowledge and aspirations. The waterways and lands are increasingly being recognised as 'living and integrated natural entities' and the Traditional Owners are recognised as the 'voice of these living entities'. The Wurundjeri Woi-Wurrung Cultural Heritage Aboriginal Corporation is developing its Country Plan which will outline the Wurundjeri Woi-wurrung vision and priorities for Country and provide a strong basis for all planning to recognise and include the voice of these Traditional Owners.
Vision and targets for the future
Vision
The Traditional Owners of this area, the Wurundjeri Woi-wurrung people, have cared for this Country for tens of thousands of years. A vision for its future will be outlined in the Wurundjeri Woi-wurrung Country Plan (in preparation).
The Yarra Ranges Council Plan 2017-21, Environment Strategy 2015-2025 and Green Wedge Management Plan 2010 include the following visions for the area:
Whether you live here or visit, you will see how much we value our natural beauty, how connected our communities are, and how balanced growth makes this the best place in the world.
We are dedicated to making Yarra Ranges a place of thriving communities, at home in healthy landscapes. The Yarra Ranges community will encourage and support sustainable farming, a healthy biodiversity and valued landscapes in its Green Wedge. These are the primary green wedge values and are what make it attractive for other activities such as tourism, recreation and rural living. Council will work with the community and other stakeholders to protect and enhance these primary values. Other activities will only be accommodated if they positively contribute to the primary values.
The Nillumbik Council Plan 2017-21, Biodiversity Strategy 2012 and Green Wedge Management Plan 2019 include the following visions for the area:
Nillumbik is Australia's most liveable Shire. Nillumbik's ecosystems are healthy, resilient, productive and connected at a landscape scale for the future.
Management of the Nillumbik green wedge will lead the way in supporting a vibrant, resilient, connected and diverse community; living in the landscape to enhance the environmental, social and economic sustainability of Nillumbik's green wedge.
Regional Catchment Strategy targets
The following long-term targets for the Yarra Ranges & Nillumbik area (at the year 2050 or further) reflect the region-scale vision of the Regional Catchment Strategy and the visions and directions of the local councils, the Healthy Waterways Strategy, other plans and the community. Pursuing these targets at local scale will contribute to the regional and state-scale targets outlined in the 'Themes' section of this strategy.
Partner organisations for the journey ahead
The following organisations formally support the pursuit of the Regional Catchment Strategy's targets for the Yarra Ranges & Nillumbik area. They have agreed to provide leadership and support to help achieve optimum results with their available resources, in ways such as:
Fostering partnerships and sharing knowledge, experiences and information with other organisations and the community
Seeking and securing resources for the area and undertaking work that will contribute to achieving the visions and targets
Assisting with monitoring and reporting on the condition of the area.
Eastern Region Pest Animal Network
Eastern Alliance for Greenhouse Action
Northern Alliance for Greenhouse Action
Nillumbik Landcare Network
Nangana Landcare Network
Johns Hill Landcare Group
Yarra Ranges Landcare Network
Northern Yarra Landcare Network
Friends of Olinda Creek
Melbourne Water
Parks Victoria
Yarra Valley Water
Victorian Fisheries Authority
Zoos Victoria
Environment Protection Authority Victoria (EPA)
Victorian Planning Authority
Trust for Nature
Sustainability Victoria
Victorian Environmental Water Holder
The Nature Conservancy
Birdlife Australia
Gardens for Wildlife Victoria
The People and Parks Foundation
Habitat Restoration Fund
Conservation Volunteers Australia
Native Fish Australia (Vic)
OzFish Unlimited
Field Naturalists Club of Victoria
Add your organisation as a supporter and partner
If your organisation supports these directions and targets for Yarra Ranges & Nillumbik, you can request to be listed as a partner organisation. Adding your organisation to this list will:
Enable your organisation to list one or more priority projects in the Prospectus which will describe how your priority project will pursue the targets of this Regional Catchment Strategy and potentially make your organisation's project more attractive to investors by using the strategy to highlight its relevance and value
Demonstrate your commitment to a healthy and sustainable environment
Demonstrate the level of community engagement and support for this work.
Priority projects to move forward
Priority projects
There are significant ongoing programs and initiatives undertaken by many organisations that are vital for the management of natural resources and the support of communities in the Yarra Ranges & Nillumbik area. In addition, there are numerous project proposals that, if funded and implemented, can contribute to achieving the Regional Catchment Strategy's visions and targets for the area. They include projects that:
Establish new vegetation in large-scale, strategic locations where it provides multiple benefits by contributing to carbon sequestration, habitat restoration and habitat connectivity
Help achieve net gain in the extent and condition of habitat across public and private land
Protect waterways
Protect threatened species
Support soil health and the adoption of sustainable agriculture practices
Support resilience to climate change in agricultural enterprises and communities
Increase community participation, engagement, education and enjoyment in nature and conservation
Strengthen Traditional Owners roles in environmental decision-making and action.
Project proposals include:
A list of project proposals and their key details can be viewed and sorted on the Prospectus section of this website.
Propose a new priority project
As part of the ongoing development and refinement of this Regional Catchment Strategy, additional priority projects may be considered for inclusion in the Prospectus.
If your organisation supports the directions and targets for this area, and has a project it would like highlighted and supported in this Regional Catchment Strategy, please submit a Prospectus Project Proposal.