Potential habitat for new populations of Helmeted Honeyeater and lowland Leadbeater's Possum
Yarra Valley Water (YVW) & Greening Australia (GA) have assessed the feasibility for the Upper Yarra Treatment Plant property for its capacity to support re-establishment of Helmeted Honeyeater (HeHo) and lowland Leadbeater's Possum (LLBP) habitat at scale.
The assessment found that establishment of high-quality habitat of an area large enough to support future released populations is achievable at the site. The site's topography, climate, location in the landscape, and hydrology provide ideal conditions to support the habitat favoured by both species.
Several opportunities were identified for establishing additional wetland habitat within the site. These could transform the site by creating significant areas of swamp forest habitat and providing additional wetland polishing cells to further improve the quality of recycled water before discharge into the Yarra River. The southern section of the property is located within the Yarra River floodplain and has several naturally occurring ephemeral wetlands.
The Upper Yarra Site, with its ongoing availability of high quality recycled water will enable released populations to be resilient to the impacts of climate change, drought & bushfire.
In early 2021, YVW met onsite with Zoos Victoria, DELWP (now DEECA) and members of the Federal Recovery Teams for the HeHo and LLBP to discuss the opportunity. YVW have since received letters of support for the project from Zoos Victoria, Friends of the HeHo, and DECCA and are hoping to commence detailed design in early 2022.
The Upper Yarra Treatment Plant is on the land of the Wurundjeri People. There are several very old Manna Gums, the totem of the Wurundjeri people, in the riparian zone of the Upper Yarra Treatment Plant. The Manna Gum would be a key species to be planted as part of the project. YVW will look to partner with Wurundjeri Woi wurrung Cultural Heritage Aboriginal Corporation in the governance, planning and implementation of this project. This will provide important two-way learning opportunities.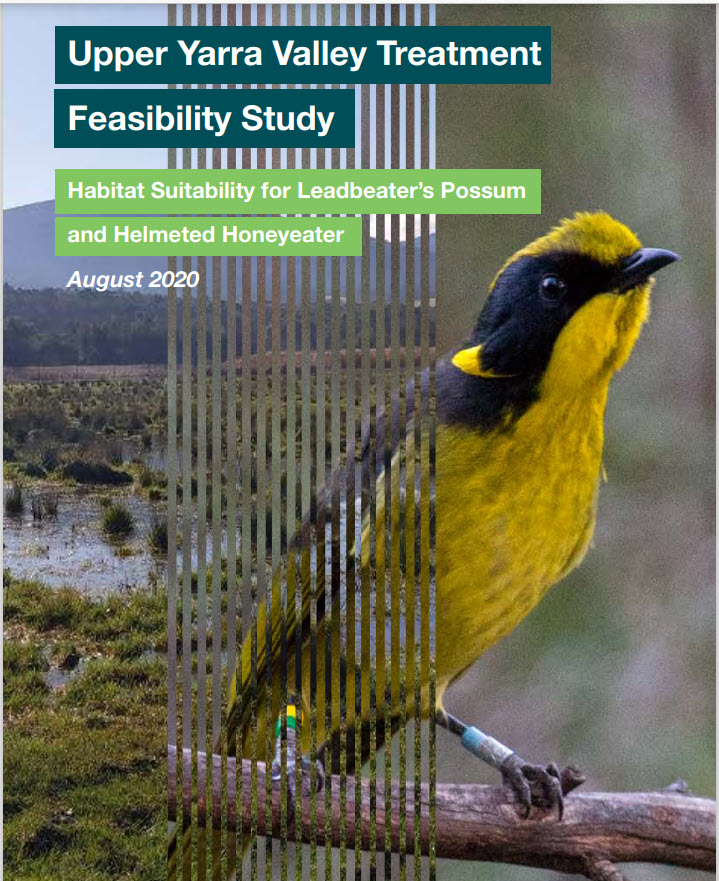 Themes and Local Areas
| | |
| --- | --- |
| Primary Theme: | Native animals |
| Other Themes: | Native Vegetation, Wetlands, Traditional Owners and Aboriginal Victorians |
| Primary Local Area: | Yarra Ranges & Nillumbik |
| Other Local Areas: | – |
| Project location: | Dalry Road, Launching Place |
| Scale of the project: | Landscape |
| New or continuing work: | Continuing/building on previous work |
Project partners
Lead organisation:
Yarra Valley Water
Key partners:
Formal partnerships have not yet been established, however the following are some of the key partnerships which will be sought:
Wurundjeri Woi-wurrung Cultural Heritage Aboriginal Corporation, Greening Australia, Zoos Victoria, Department of Energy, Environment and Climate Action (DEECA), Federal Recovery Teams for HeHo & LLBP, Friends of the HeHo & LLBP, Melbourne Water, the local Don Valley, Launching Place and Woori Yallock communities
Registered Aboriginal Party/s relevant to the project or its area:
Wurundjeri Woi Wurrung Cultural Heritage Aboriginal Corporation
Investment opportunities
| | |
| --- | --- |
| Opportunities for investors within this project start from: | $$ (Tens of thousands of dollars) |
| Estimated scale of investment for full project implementation: | $$$$ (Millions of dollars) |
| Estimated timeframe for full project implementation: | 2-10 years |
Contribution toward targets
Primary Regional Catchment Strategy target:
Native Animals – Wild populations of all threatened native animal species in the region are retained and their populations are self-sustainable, secure, healthy and resilient. YVW's Upper Yarra Site, with its ongoing availability of high quality recycled water will enable released populations to be resilient to the impacts of climate change and drought & bushfire.

Water Amenity – improved quality of recycled water used in support of the wetland will be further enhanced prior to release to the Yarra River
Biodiversity & Threatened Vegetation – The site will contribute approximately 20 Ha of wetlands to be revegetated with threatened Sedge-rich Eucalyptus camphora plant community

Community Volunteering – The local Don Valley, Launching Place and Woori Yallock communities and beyond will be invited to support the project through planting days at the site.

Carbon Emissions – Water Corporations have achieved net zero emissions. Revegetation of the site will generate enable further carbon offset and potentially the site to achieve carbon neutrality (there is an existing solar array).
Relevant Biodiversity 2037 goal:
Protect or assist one or more critically endangered or endangered species/community of native vegetation or native animal
Relevant National Landcare Program priority:
Priority species – Helmeted Honeyeater and Leadbeater's Possum
More information
Yarra Valley Water Project Manager – Natalie Hackett, nhackett@yvw.com.au, 0402060523