Insectaries in vineyards for productivity and ecological gains
This project is helping to transform the environmental and production practices of up to 6,000 vineyard owners, who manage 145,000 hectares of grapevines in Australia, providing a catalyst for change throughout Australia's wine regions, to grow resilience and future proof production, while creating promotional opportunities to share environmental stewardship case studies internationally.
EcoVineyards participants in each region commit to developing a native insectary demonstration site with a cash grant per site (they co-contribute cash and in-kind time).
Regional support is provided to participating EcoGrowers to achieve their project aims, and to answer any questions by growers in the broader community. Learnings are shared via workshops, in field sessions, informal information nights, fact sheets, case studies, regional association, e-bulletins, the EcoVineyards website and social media feeds.
Recent research found that native insectary plants can increase the presence of predatory arthropods (beneficial insects and spiders), and thereby enhance biological control of vineyard insect pests. This gives growers the confidence to incorporate selected native insectary plants in association with vineyards while contributing to natural climate solutions.
Vegetation structures such as windbreaks, vegetation corridors, mid-row, under-vine, and headland areas can be enhanced to provide resources for insect predators, microbats, endangered insectivorous and predatory bird species.
Deliverables:
Preparation of native insectary plant community lists tailored to each wine growing region to help inform local plant selection.
Establishment of six native insectary demonstration sites in each major wine region to enhance functional biodiversity and soil health.
Installation of promotional signage, photo points, raptor perches and microbat boxes.
Regular info sessions to share practical tips on how to establish and monitor native insectary plants and soil biodiversity.
Development of fact sheets and case studies to accelerate the uptake of functional biodiversity enhancement practices and communicate findings via social media platforms, Facebook @EcoVineyards and Instagram @EcoVineyards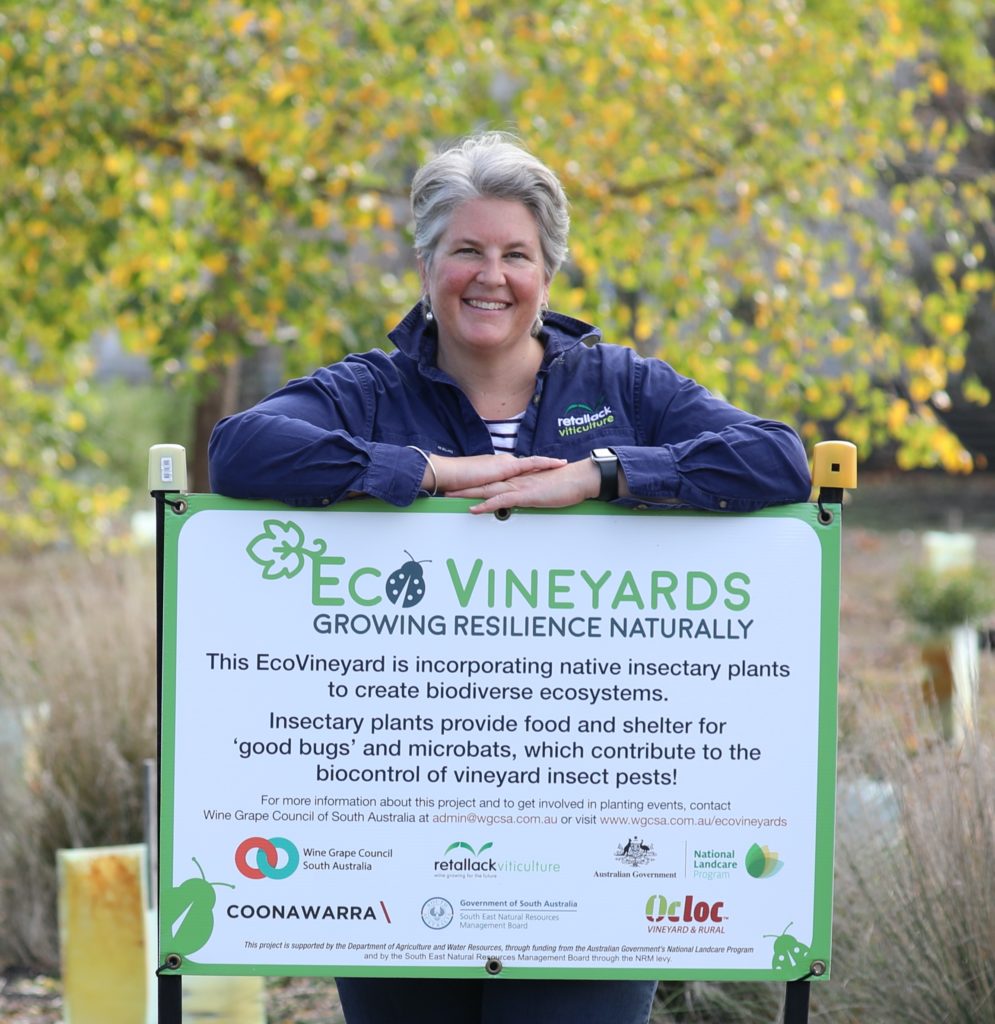 Themes and Local Areas
| | |
| --- | --- |
| Primary Theme: | Sustainable agriculture |
| Other Themes: | Native Vegetation, Native Animals, Land Use, Soil Health, Communities, Climate Change |
| Primary Local Area: | Mornington Peninsula |
| Other Local Areas: | Yarra Ranges & Nillumbik, Macedon Ranges, Hume, Mitchell & Whittlesea, Moorabool, Melton, Wyndham & Greater Geelong |
| Project location: | Mornington Peninsula, Yarra Valley, Macedon Ranges and Geelong wine regions |
| Scale of the project: | Landscape |
| New or continuing work: | Continuing/building on previous work |
Project partners
| | |
| --- | --- |
| Lead organisation: | Retallack Viticulture |
| Key partners: | Mornington Peninsula Vignerons, Wine Yarra Valley, Melbourne Water |
| Registered Aboriginal Party/s relevant to the project or its area: | Bunurong Land Council Aboriginal Corporation, Wurundjeri Woi-wurrung Cultural Heritage Aboriginal Corporation, Wadawurrung Traditional Owners Aboriginal Corporation |
Investment opportunities
| | |
| --- | --- |
| Opportunities for investors within this project start from: | $$ (Tens of thousands of dollars) |
| Estimated scale of investment for full project implementation: | $$$ (Hundreds of thousands of dollars) |
| Estimated timeframe for full project implementation: | 1-2 years |
Contribution toward targets
| | |
| --- | --- |
| Primary Regional Catchment Strategy target: | Sustainable agriculture systems- This region's farms and agricultural industries are recognised as leaders in agri-ecological sustainability and resilience |
| Relevant Biodiversity 2037 goal: | – |
| Relevant National Landcare Program priority: | Soil/biodiversity – Industry best management practices that relate to native vegetation and biodiversity outcomes on farms |
More information
https://www.wgcsa.com.au/ecovineyards.html.
Meet the EcoGrowers – https://www.wgcsa.com.au/meet-the-ecogrowers.html
Fact sheets – https://www.wgcsa.com.au/ecovineyards-factsheets.html
Case studies – https://www.wgcsa.com.au/ecovineyards-case-studies.html
Wine Australia funded EcoVineyards interpretive signage – https://www.wgcsa.com.au/ecovineyards-signage.html
Pledge your plants – https://www.wgcsa.com.au/pledge-your-plants.html
Survey – https://www.wgcsa.com.au/ecovineyards-survey.html