Contributing to protection and enhancement of Western Port Ramsar values
The wetlands of Western Port are identified as having international significance. They provide support to a variety of flora and fauna species, including many threatened species.
This project aims to reduce threats to the region's Ramsar-listed wetlands while increasing the community's understanding of the importance of wetlands and how to protect them.
Casey considers all pest plants and animals as high priority threats to the indigenous flora and fauna of the Western Port Ramsar site. While there has been a considered and coordinated program to control predators and pest plants within the Ramsar site we strongly believe this work needs to be maintained.
This project has utilised Strategic Management Prospects (SMP) modelling to consider latest science and cost-benefit effectiveness aiming to maximise and enhance biodiversity benefits of the project within the landscape. The wetlands are a priority location for pest herbivore, pest predator and weed control for contributing to the targets in Biodiversity 2037.
Western Port Ramsar Site Management Plan identifies fourteen management strategies to protect flora and fauna and the City of Casey Program aims to implement the following management strategies:
3.2 Restore / maintain extent and condition of key habitats in Western Port to increase resilience to the impacts of threats
3.7 Continue to implement pest animal control programs (cat, fox, rat, dog, pig) in priority waterbird roosting and nesting sites within the Ramsar site
3.8 Continue to implement rabbit control programs within the Ramsar site boundary to limit impacts on saltmarsh
3.11 Conduct regular surveys and implement control actions for new and emerging salt tolerant weeds.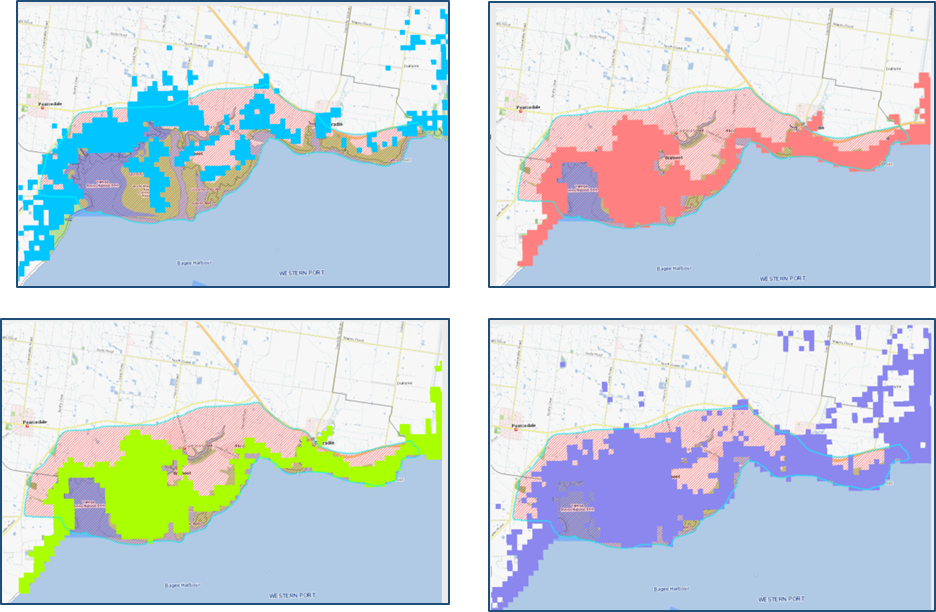 Themes and Local Areas
| | |
| --- | --- |
| Primary Theme: | Wetlands |
| Other Themes: | Native vegetation, Native animals, Coasts, Estuaries, Marine environments |
| Primary Local Area: | Western Port |
| Other Local Areas: | Mornington Peninsula, Bass Coast, South Gippsland & islands, Casey, Cardinia & Baw Baw |
| Project location: | Western Port – City of Casey Coast |
| Scale of the project: | Landscape – multiple sites across Western Port |
| New or continuing work: | Continuing/building on previous work |
Project partners
| | |
| --- | --- |
| Lead organisation: | City of Casey |
| Key partners: | Melbourne Water, Parks Victoria, Department of Energy, Environment and Climate Action (DEECA), Western Port Biosphere and other Local Government Areas (Mornington Peninsula Shire Council, Cardinia Shire Council, Bass Coast Shire Council) |
| Registered Aboriginal Party/s relevant to the project or its area: | Bunurong Land Council Aboriginal Corporation |
Investment opportunities
| | |
| --- | --- |
| Opportunities for investors within this project start from: | $$$ (Hundreds of thousands of dollars) |
| Estimated scale of investment for full project implementation: | $$$ (Hundreds of thousands of dollars) |
| Estimated timeframe for full project implementation: | 2-10 years |
Contribution toward targets
Primary Regional Catchment Strategy target:
Ramsar wetlands: The ecological condition of the Western Port Ramsar site is at least maintained from 2021 to 2050.

Pest predator control: Over 19,800 hectares of pest predator control undertaken at priority locations in the Casey, Cardinia & Baw Baw area between 2017 and 2050 (an average of at least 600 hectares per year).

Threatened animals: Wild populations of all threatened native animal species present in the Casey, Cardinia & Baw Baw area in 2021 are retained in 2050 and are sustainable, secure, healthy and resilient.

Diversity of native animals: The diversity of native animal species that inhabit the Casey, Cardinia & Baw Baw area in 2021 are retained in 2050.

Threatened vegetation: All threatened native flora species and ecological communities that are present in the Casey, Cardinia & Baw Baw area in 2021 are retained in 2050 and are sustainable, secure, healthy and resilient.

Pest and weed control: Over 41,250 ha of pest herbivore control and over 16,500 ha of weed control undertaken at priority locations in the Casey, Cardinia & Baw Baw area between 2017 and 2050 (an average of at least 1,250 and 500 hectares per year respectively).
Relevant Biodiversity 2037 goal:
Undertake pest predator control to protect native animal species in priority areas
Relevant National Landcare Program priority:
Ramsar – Western Port Ramsar site – Ecological character maintained or improved

Priority species – Eastern Curlew, Orange-bellied Parrot and/or Hooded Plover – Trajectory improved

Ecological communities – Seasonal Herbaceous Wetlands of the temperate Lowland Plains – Condition improved

Ecological communities – Subtropical and Temperate Coastal Saltmarsh – Condition improved
More information
https://www.casey.vic.gov.au/protecting-western-port
https://www.environment.vic.gov.au/biodiversity/working-together-for-biodiversity