Transitioning to a climate resilient future through Climate Adaptation Planning
This project will extend the great work undertaken in the VCCCI-funded project, Growing Southern Gippsland, rolling out an agricultural climate adaptation tool.
The proposal will roll out the Climate Adaptation Plan (CAP) developed in partnership with our key partners Federation University Australia and CERDI, RMIT University, Bass Coast Shire Council and South Gippsland Landcare Network. The CAP will be hosted on the Growing Southern Gippsland website and be publicly available at www.growingsoutherngippsland.org.au
The project will involve:
A series of 2 field day/workshops will specifically focus on the 4 climate drivers that underpin the CAP – temperature, wind, water and seasonality. These field days will illustrate how these climate drivers are changing, the trends they are generating and the impacts on agriculture, as well as adaptation and mitigation actions. These workshops will provide background information and prepare landholders for undertaking a CAP.
Then, a series of 4 Climate Adaptation Plan (CAP) landowner workshops will introduce the CAP and take landowners through a process of CAP development for their farming enterprises.
A multimedia video resource which will be a "how to do your CAP' resource. This resource will be web based and available on numerous websites, notably the Growing Southern Gippsland website.
Growing Southern Gippsland website maintenance and content upgrade support, following feedback from the initial CAP roll out.
This proposal will form a part of a broader ongoing program to work with the farming community within Bass Coast on climate change adaptation and mitigation. This journey to resilience is an ongoing one.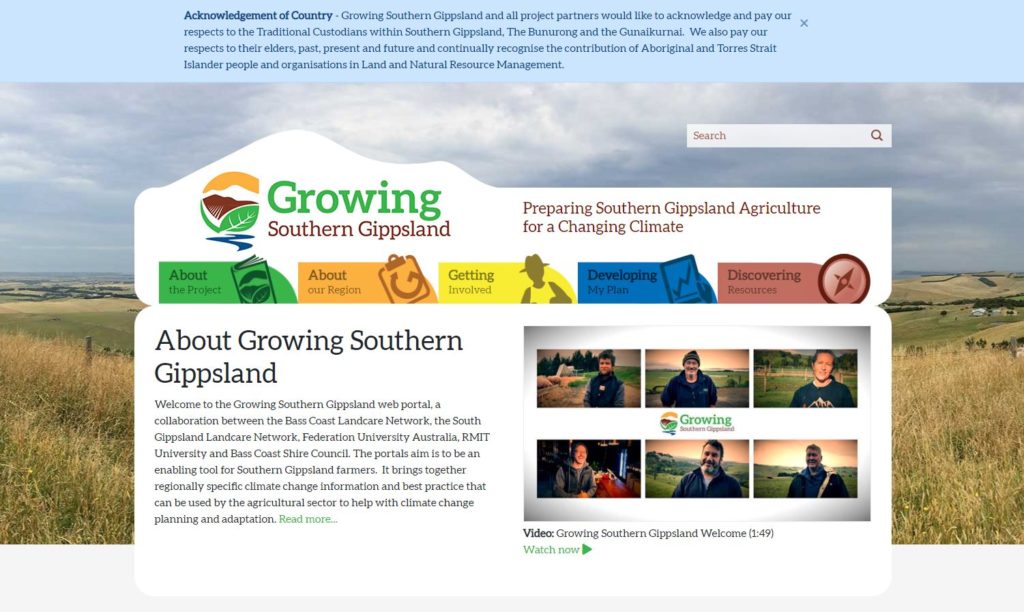 Themes and Local Areas
| | |
| --- | --- |
| Primary Theme: | Sustainable Agriculture |
| Other Themes: | Climate change, Land Use, Soil Health |
| Primary Local Area: | Bass Cost, South Gippsland & islands |
| Other Local Areas: | – |
| Project location: | Bass Coast Landcare Network area |
| Scale of the project: | Information |
| New or continuing work: | Continuing/building on previous work |
Project partners
| | |
| --- | --- |
| Lead organisation: | Bass Coast Landcare Network |
| Key partners: | Bass Coast Shire Council, South Gippsland Landcare Network |
| Registered Aboriginal Party/s relevant to the project or its area: | Bunurong Land Council Aboriginal Corporation |
Investment opportunities
| | |
| --- | --- |
| Opportunities for investors within this project start from: | $$ (Tens of thousands of dollars) |
| Estimated scale of investment for full project implementation: | $$ (Tens of thousands of dollars) |
| Estimated timeframe for full project implementation: | 1-2 years |
Contribution toward targets
| | |
| --- | --- |
| Primary Regional Catchment Strategy target: | Sustainable Agriculture – The Green Wedges and high value agricultural land of this region are retained for agricultural use and are supporting diverse and profitable agricultural enterprises |
| Relevant Biodiversity 2037 goal: | Support people to take action for nature |
| Relevant National Landcare Program priority: | Agriculture systems – Projects that support industries, farmers and fishers to adopt new management practices that help them to adjust to weather and/or climate variability |
More information