The Green Wedge areas of Melbourne's north-west (Hume and Whittlesea LGAs) support a rural community that seeks to generate an income on marginal agricultural land that yields the lowest gross production of all rural areas in greater Melbourne. Despite holding lower importance for long-term agricultural production, these areas represent one of the few remaining strongholds of the critically endangered temperate grassland and grassy woodland vegetation communities. Much of what remains in these LGAs occurs on private land under the stewardship of rural landowners who are faced with the challenge and burden of funding protection and enhancement of these important remnants in a marginally profitable landscape.
The 'Ensuring the Survival of Temperate Grasslands and Grassy Woodlands' project will aim to support private rural landowners in protecting and enhancing critically endangered vegetation communities on their land. The project recognises that threatened ecosystems are one of the most defining values/assets in the Hume and Whittlesea green wedges, and that securing their future in the region in the face of declining agricultural importance is fundamental to the future of these green wedges.
The project would seek to fund protection and enhancement works such as weed control, broad-scale revegetation/restoration and pest animal control, with the overarching goal to enhance ecological connectivity of these vegetation communities. To that end the project would be guided by extensive connectivity modelling that was undertaken in 2018 for the north-west region, commissioned by Hume and Brimbank councils. The modelling identifies the most important vegetation patches in the landscape for connectivity and strategic opportunities for enhancement. The project would also seek to assist landowners in working toward a more integrated conservation and production system for their properties. The project builds on past and current work in the region to support rural landowner biodiversity conservation, though funding is not adequate to achieve meaningful gains.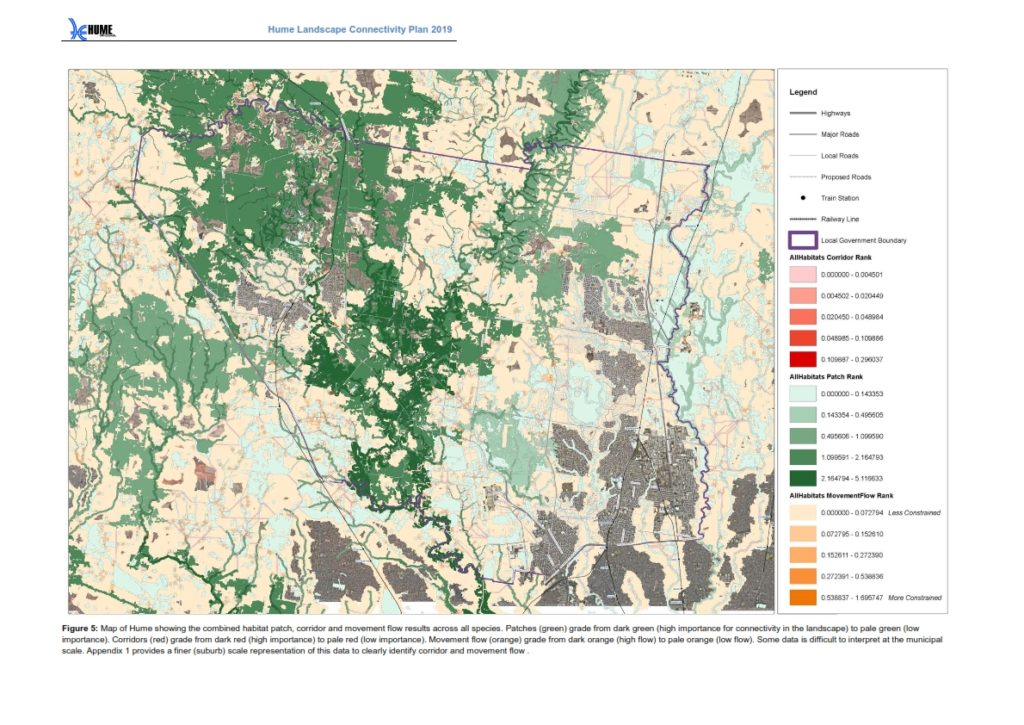 Themes and Local Areas
| | |
| --- | --- |
| Primary Theme: | Native Vegetation |
| Other Themes: | Waterways, Native Animals, Land Use, Sustainable Agriculture, Climate Change |
| Primary Local Area: | Macedon Ranges, Hume, Mitchell & Whittlesea |
| Other Local Areas: | Urban Melbourne |
| Project location: | Primarily the Hume and Whittlesea LGAs, though possibly also Brimbank, Macedon and Mitchell |
| Scale of the project: | Landscape |
| New or continuing work: | Continuing/building on previous work |
Project partners
| | |
| --- | --- |
| Lead organisation: | Hume City Council |
| Key partners: | Whittlesea City Council, Brimbank City Council, Mitchell Shire Council, Macedon Ranges Shire Council, Melbourne Water |
| Registered Aboriginal Party/s relevant to the project or its area: | Wurundjeri Woi Wurrung Cultural Heritage Aboriginal Corporation |
Investment opportunities
| | |
| --- | --- |
| Opportunities for investors within this project start from: | $$$ (Hundreds of thousands of dollars) |
| Estimated scale of investment for full project implementation: | $$$$ (Millions of dollars) |
| Estimated timeframe for full project implementation: | 2-10 years |
Contribution toward targets
Primary Regional Catchment Strategy targets and contribution to their achievement:
Threatened vegetation – one of the primary objectives of the project is the protection and enhancement of critically endangered temperate grasslands and grassy woodlands. It will seek to maintain and even enhance diversity of individual threatened plants within the project area.

Threatened animals – species such as the Striped Legless Lizard, Golden Sun Moth and Swift Parrot occur in the project area. The project will consider habitat enhancement and connectivity for these species.

Pest management – the program will fund important weed control within and adjacent to patches of remnant vegetation to address immediate threats and pathways of spread.

Revegetation – this will form a key approach to the 'enhancement' aspect of the project and underpin efforts to improve ecological connectivity.

Green Wedge – the project seeks to bolster the important role that the Hume and Whittlesea green wedges play in protecting grasslands and grassy woodlands. Pursuing sustainable agriculture with integrated biodiversity conservation and agribusiness is fundamental to the long-term health and viability of these green wedges.

Permanent protection of critically endangered vegetation – the project will also seek to encourage rural landowners to seek permanent protection of their conservation areas through Trust for Nature.

Landcare Group health – currently Landcare is poorly represented in Hume and Whittlesea. The project will aim to promote Landcare as a model to achieve sustainable agriculture objectives in the region.
Relevant Biodiversity 2037 goal:
Create new areas of permanently protected native vegetation on private land
Relevant National Landcare Program priority:
Ecological communities – Grassy Eucalypt Woodland and/or Natural Temperate Grassland of the Victorian Volcanic Plain – Condition improved
More information