Stepping stones of natural habitat across the Mornington Peninsula
The Mornington Peninsula Landcare Network's 'Greens Bush to Arthurs Seat Biolink' seeks to improve catchment health and address the lack of landscape connectivity between two significant areas of remnant vegetation the Mornington Peninsula National Park (Greens Bush) and Arthurs Seat State Park. Through revegetation and weeding, and fencing of remnants, a biolink will be created across private property in the project area, benefiting numerous threatened fauna including Powerful owls and Swamp skinks.
This project will help bring to life the exciting vision of the Mornington Peninsula Landcare Network and the community to have a biolink connection along the length of the Mornington Peninsula.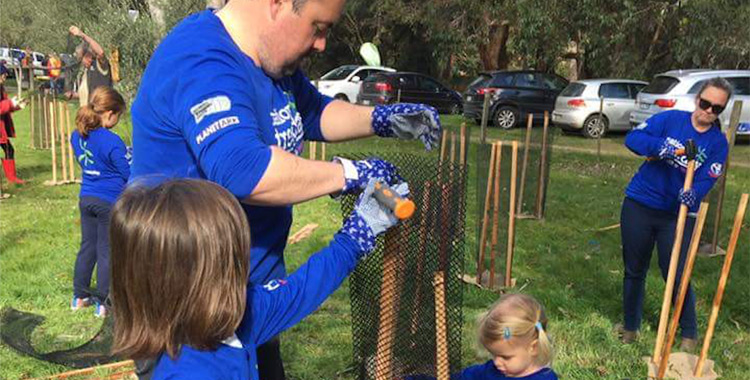 Themes and Local Areas
| | |
| --- | --- |
| Primary Theme: | Native vegetation |
| Other Themes: | Native animals, Waterways, Communities |
| Primary Local Area: | Mornington Peninsula |
| Other Local Areas: | – |
| Project location: | This project will work across the Mornington Peninsula from Greens Bush to Arthurs Seat |
| Scale of the project: | Landscape |
| New or continuing work: | Continuing/building on previous work |
Project partners
| | |
| --- | --- |
| Lead organisation: | Mornington Peninsula Landcare Network |
| Key partners: | Mornington Peninsula Shire Council, Melbourne Water, Birdlife Australia (Mornington Peninsula branch), Parks Victoria, Chisholm TAFE, Holmesglen TAFE, Bunurong Land Council Aboriginal Corporation, Local schools and scout groups |
| Registered Aboriginal Party/s relevant to the project or its area: | Bunurong Land Council Aboriginal Corporation |
Investment opportunities
| | |
| --- | --- |
| Opportunities for investors within this project start from: | $$ (Tens of thousands of dollars) |
| Estimated scale of investment for full project implementation: | $$$ (Hundreds of thousands of dollars) |
| Estimated timeframe for full project implementation: | 2-10 years |
Contribution toward targets
| | |
| --- | --- |
| Primary Regional Catchment Strategy target and contribution to its achievement: | Major new biolinks – Significant, sustained revegetation programs have been undertaken from 2021 to 2050 and have created numerous major biolinks in priority locations across the region |
| Relevant Biodiversity 2037 goal: | Revegetation of priority areas for connectivity between habitats |
| Relevant National Landcare Program priority: | Soil, biodiversity and vegetation – Projects that will protect and enhance on-farm remnant native vegetation |
More information
Contact the Mornington Peninsula Landcare Network