Supporting farmers to adopt sustainable management of pasture pests
The main aim of the project is to improve the control of Redlegged earth mite (RLEM) and Lucerne flea in pasture, without the use of insecticides. Both of these species are resident pests, meaning the population is established within a paddock and carries over from year to year.
Conventional control of these pests frequently relies on spraying insecticides or using insecticide seed dressings when sowing pastures. Although these control measures help reduce damage at establishment, they are undesirable for other reasons. Insecticide sprays are toxic to many beneficial species, and seed treatments rely on products that are likely to be withdrawn from market at some stage. In both cases as stand-alone control measures, they do not manage the population of pests within a paddock.
Populations of resident invertebrate pests can be manipulated by changing the habitat in which they live. We have designed a new sequence for sowing (renovating) existing pastures which incorporates a multi-species crop, but instead of sowing the multi-species seed at the same time, a delayed sequence approach will be used. The main concept is to plant cereals first and clover last (several months later). Effectively this should starve out resident pests such as Lucerne flea as they do not have preferred pasture to feed on, then sow the susceptible pasture species after the pests have been reduced due to lack of suitable feeding sources and habitat. The species planting sequencing looks something like this and will be sown with 2-4 passes over at least 6 months. This sequencing of planting pastures will help to reduce the number of pests such as Lucerne flea whilst allowing beneficial insects such as snout mite to build in numbers.
With a more balanced pest:beneficial population, the natural biological control should be able to maintain pests at a level that won't limit pasture growth or require the use of chemical options to manage pest populations.
Trials need further testing and monitoring.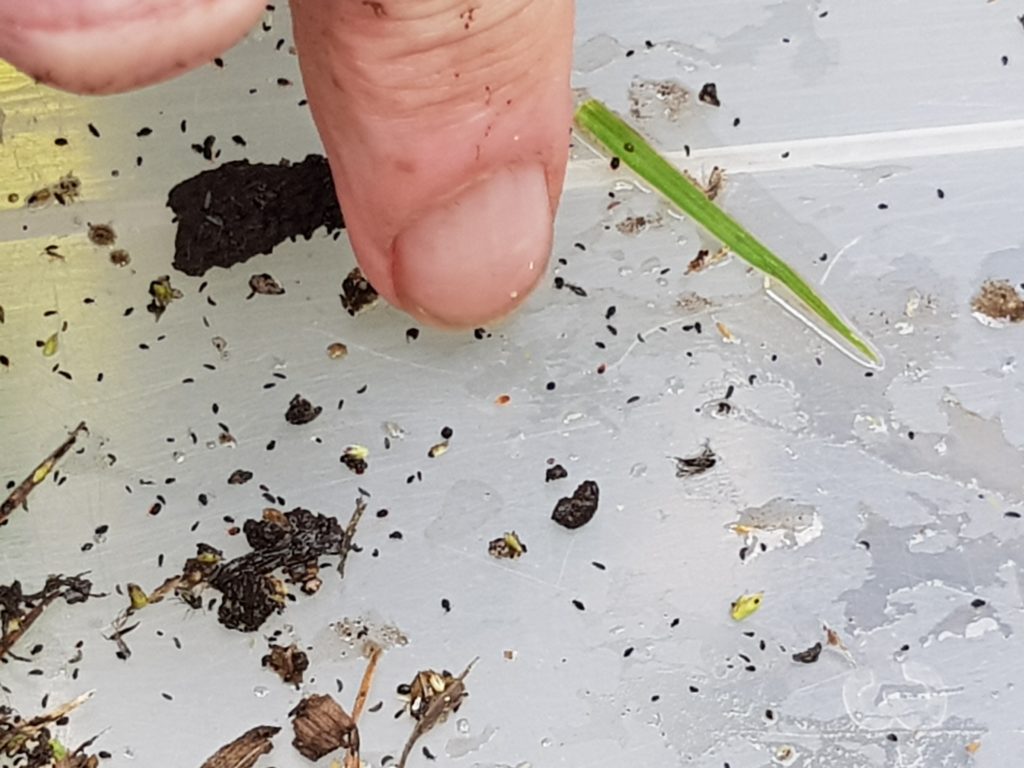 Themes and Local Areas
| | |
| --- | --- |
| Primary Theme: | Sustainable agriculture |
| Other Themes: | Waterways, Soil Health, Climate Change |
| Primary Local Area: | Casey, Cardinia & Baw Baw |
| Other Local Areas: | Bass Coast, South Gippsland & islands, Mornington Peninsula, Yarra Ranges & Nillumbik, Macedon Ranges, Hume, Mitchell & Whittlesea, Moorabool, Melton, Wyndham & Greater Geelong |
| Project location: | The original trial site is located in Bayles, Western Port Catchment Landcare Network |
| Scale of the project: | Landscape – multiple farming areas |
| New or continuing work: | Building on previous work |
Project partners
| | |
| --- | --- |
| Lead organisation: | Melbourne Water |
| Key partners: | Landcare Networks |
| Registered Aboriginal Party/s relevant to the project or its area: | Bunurong Land Council Aboriginal Corporation, Wurundjeri Woi Wurrung Cultural Heritage Aboriginal Corporation, Wadawurrung Traditional Owners Aboriginal Corporation |
Investment opportunities
| | |
| --- | --- |
| Opportunities for investors within this project start from: | $ (Thousands of dollars) |
| Estimated scale of investment for full project implementation: | $$ (Tens of thousands of dollars) |
| Estimated timeframe for full project implementation: | 1-2 years |
Contribution toward targets
| | |
| --- | --- |
| Primary Regional Catchment Strategy target: | Sustainable agriculture systems – This region's farms and agricultural industries are recognised as leaders in agri-ecological sustainability and resilience. |
| Relevant Biodiversity 2037 goal: | – |
| Relevant National Landcare Program priority: | Agriculture systems – Projects that support industries, farmers and fishers to adopt new management practices that help them to adjust to weather and/or climate variability |
More information
https://www.ppwcma.vic.gov.au/priorities-projects/past-projects/preying-on-pasture-pests-the-ipm-way/