Creating a forest in Melbourne's most urban catchment
Of the five major catchments surrounding Melbourne, the Dandenong catchment in the city's south east is the most urbanised, with around 60% urban land cover. Urban pressure is continuing to increase, with the population predicted to rise from 1.4 to over 1.7 million people in the next 20 years, and an additional 7,000 dwellings required every year. A warmer and drier climate coupled with an increasingly urbanised landscape presents a major challenge to the long-term resilience of the catchment's aquatic and terrestrial natural assets – while at the same time increasing the importance of those spaces as a green and cool respite from the urban landscape.
Working collaboratively with an extensive group of partners, the Living Links Urban Forest project offers an integrated response to this major challenge by supporting the establishment of an urban forest across the Dandenong catchment. Research shows that urban forests offer a wide range of benefits, including integrated water management (IWM), biodiversity protection, climate change mitigation, urban cooling and shading, and enhanced human health and wellbeing. With regards to IWM, urban forests play a critical role in reducing evaporation, improving soil water-holding capacity, slowing and absorbing run-off, trapping litter, sediments and pollutants, and improving water quality in local waterways and catchment bodies.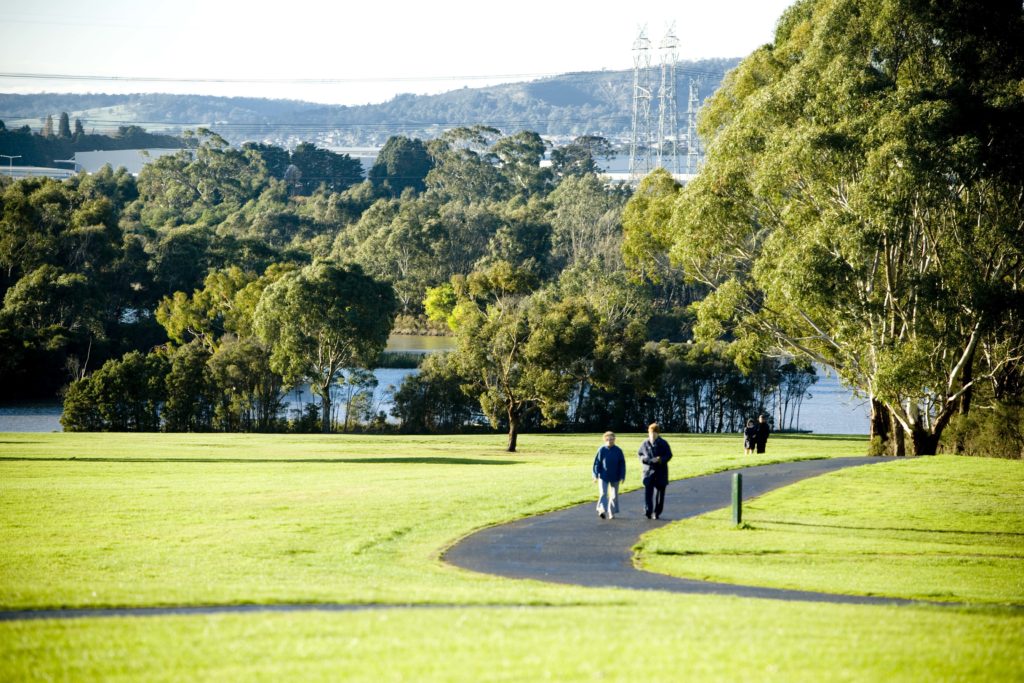 The urban forest concept is rapidly gaining worldwide popularity due to its ability to provide a tangible and unifying framework to inspire multi-disciplinary, multi-scale action. Building on this wave of momentum, this project will deliver a suite of innovative best-practice urban forest demonstration projects, and a catchment-wide community engagement program that will build a groundswell of active stewardship to foster catchment resilience over the long term. These initiatives will leverage off existing catchment partnerships cultivated through Living Links over the past 13 years.
Whereas the traditional conservation approach is to focus efforts on remote areas where human impact is minimal, there is growing recognition that nature conservation in urban areas is equally critical. Not only can urban nature support significant environmental values; research shows that people need to connect with nature in order to care for it – and urban areas are ideal for that. The Living Links Urban Forest project thus offers an integrated approach to support the long-term health and resilience of the Dandenong catchment, whilst building a groundswell of pro-environmental attitudes and behaviours in one of Victoria's most densely populated areas.
Themes and Local Areas
| | |
| --- | --- |
| Primary Theme: | Native vegetation |
| Other Themes: | Climate change, Waterways, Communities |
| Primary Local Area: | Urban Melbourne |
| Other Local Areas: | Casey, Cardinia & Baw Baw |
| Project location: | This project will operate across the Dandenong Catchment in Melbourne's south east, with a number of demonstration sites identified across the project area |
| Scale of the project: | Landscape |
| New or continuing work: | New project/work |
Project partners
| | |
| --- | --- |
| Lead organisation: | Melbourne Water – through the Living Links Program |
| Key partners: | Parks Victoria, City of Casey, City of Greater Dandenong, Bayside City Council, City of Kingston, City of Frankston, City of Monash, Bushwalking Victoria, City of Knox, City of Maroondah, Conservation Volunteers Australia, Field Naturalists Club of Victoria, Gardens for Wildlife Victoria, Living Melbourne, South East Water, VicRoads, Bunurong Land Council Aboriginal Corporation, Wurundjeri Woi-wurrung Cultural Heritage Aboriginal Corporation, Federation University |
| Registered Aboriginal Party/s relevant to the project or its area: | Wurundjeri Woi Wurrung Cultural Heritage Aboriginal Corporation, Bunurong Land Council Aboriginal Corporation |
Investment opportunities
| | |
| --- | --- |
| Opportunities for investors within this project start from: | $$$ (Hundreds of thousands of dollars) |
| Estimated scale of investment for full project implementation: | $$$$ (Millions of dollars) |
| Estimated timeframe for full project implementation: | 2-10 years |
Contribution toward targets
| | |
| --- | --- |
| Primary Regional Catchment Strategy target: | Major new biolinks – Significant, sustained revegetation programs have been undertaken from 2021 to 2050 and have created numerous major biolinks in priority locations across the region |
| Relevant Biodiversity 2037 goal: | Support people to connect with nature |
| Relevant National Landcare Program priority: | – |
More information
Living Links website