An award-winning education and community engagement program fostering connection to local marine environments
Litter is a significant threat to marine environments worldwide, with an estimated 4-12 million tonnes of plastic entering the world's oceans annually. Each year, thousands of animals are killed due to entanglements or from ingesting plastic and marine debris. A lack of understanding and disconnect between community actions and their impact on marine environments can further increase this threat. From spending thousands of hours on the water conducting our applied marine mammal research, the Marine Mammal Foundation (MMF) directly witnesses the huge impact litter has on local marine environments. Given our research focus, we are uniquely positioned to educate on the litter threat, provide action opportunities, and support sustainable initiatives.
The Marine Litter Project is the MMF's award-winning education and community engagement program. Our innovative program inspires appreciation and fosters connection to local marine environments, and empowers community action for conservation. Through unique interactive learning activities, participants are equipped with the knowledge and skills to better understand the litter threat and make positive change for a more sustainable future.
Marine Litter Project workshops combine education and hands-on action for a positive difference, engaging participants to connect with local marine environments through the discovery and understanding of marine mammals, such as the Burrunan dolphin, Australian fur seal, humpback whale, and orca. The negative impact of anthropogenic threats, such as the dispersal of local litter into marine environments, irresponsible boating, incorrect disposal of fishing line, or environmentally damaging behaviours, is communicated through clear and accessible messaging.
Through understanding, participants are inspired and empowered to make a difference and mitigate these threats through simple and effective positive conservation actions such as litter clean-up activities and local campaign initiatives. The Marine Litter Project provides holistic community-driven education opportunities which aim to inspire ongoing positive action, environmental awareness, and local stewardship to conserve the unique Port Phillip and Westernport Catchment environment.
Community and volunteer engagement is integral to the delivery of the project. Previous successful MMF community engagement and education programs have engaged over 22,000 people and have included thousands of volunteer hours (2017 – 2020). This level of engagement is not only expected to continue throughout this project, but expand reach and accessibility across the Port Phillip & Western Port region. This will provide further volunteering opportunities and support greater community engagement to recognise and reduce the litter threat. Inspiring an appreciation of marine environments and demonstrating how local action can make a positive difference fosters a whole-of-catchment approach in the conservation and stewardship of local environments and mitigates the litter threat.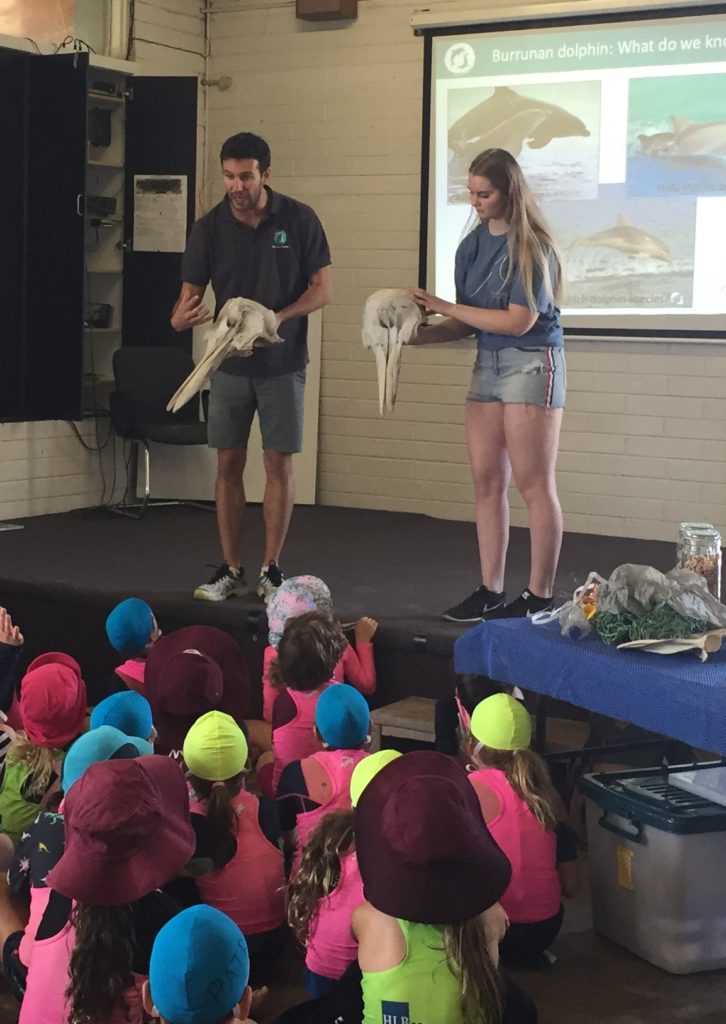 Themes and Local Areas
| | |
| --- | --- |
| Primary Theme: | Communities |
| Other Themes: | Waterways, Wetlands, Native Vegetation, Native Animals, Coasts, Estuaries, Marine Environments, Traditional Owners and Aboriginal Victorians, Climate Change |
| Primary Local Area: | All Local Areas |
| Other Local Areas: | – |
| Project location: | The project will be undertaken in communities across the Port Phillip & Western Port catchment region. Participating organisations will include schools, community groups and other community organisations. |
| Scale of the project: | Information |
| New or continuing work: | Continuing/building on previous work |
Project partners
| | |
| --- | --- |
| Lead organisation: | Marine Mammal Foundation |
| Key partners: | Coastcare Victoria, Life Saving Victoria, Scouts Victoria, Bayside City Council |
| Registered Aboriginal Party/s relevant to the project or its area: | Wurundjeri Woi Wurrung Cultural Heritage Aboriginal Corporation, Bunurong Land Council Aboriginal Corporation, Wadawurrung Traditional Owners Aboriginal Corporation |
Investment opportunities
| | |
| --- | --- |
| Opportunities for investors within this project start from: | $ (Thousands of dollars) |
| Estimated scale of investment for full project implementation: | $$$ (Hundreds of thousands of dollars) |
| Estimated timeframe for full project implementation: | 2-10 years |
Contribution toward targets
Primary Regional Catchment Strategy target:
Community volunteering – Community volunteering for natural resource management surpasses 1 million hours per year.

Community participation – Over 2 million people participate annually in natural resource management events and activities conducted by relevant agencies, Councils and community groups across the region.
Relevant Biodiversity 2037 goal:
Raise community awareness of biodiversity and how it supports their personal and economic wellbeing
Relevant National Landcare Program priority:
–
More information