Improving koala habitat from Cerberus to Red Hill South
Koala and wildlife numbers on the Mornington Peninsula are declining due to loss of habitat and urbanisation. Mornington Peninsula Koala Conservation (MPKC) is a volunteer organisation working on implementing our action plan to protect and restore koala habitat. Deakin University student Paola Rivera's (Rivera 2020) study of koala distribution on the Mornington Peninsula has shown they are still present from HMAS Cerberus through to Red Hill South, mostly along roadside vegetation and riparian zones.
The plan is to increase tree canopy and revegetate farmland (i.e. shelter belts), on private property and improve the existing reserves and riparian zones. Tree canopy in this area is sparse and fragmented with weeds invading the existing remnant bushland. More than 70% of koala habitat is on private land and without community involvement we will not be able to stop the decline. Tree planting is one of the most affordable, relatable, enjoyable and positive ways of taking climate action, whilst significantly benefitting our natural environment.
It provides an opportunity to educate people in our community about the impacts of climate change and the loss of biodiversity. By collaborating with the Mornington Peninsula Landcare Network, Members of the Merricks-Coolart Landcare Group and Red Hill South Landcare Group, the Mornington Peninsula Shire, Parks Victoria, the Dept. of Defence and many other organisations and local residents, we are sure to achieve a successful outcome. We have a lot of landholders already signed up and an unbelievable amount of interest in the community.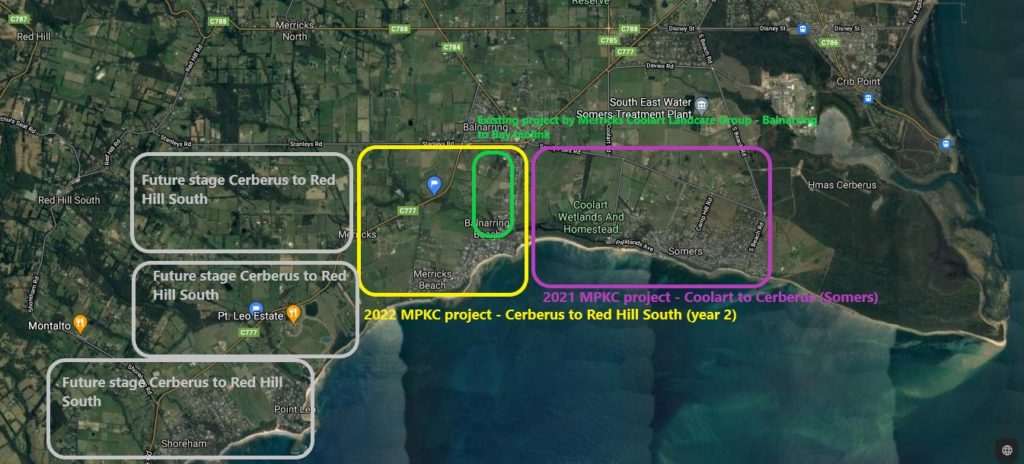 Themes and Local Areas
| | |
| --- | --- |
| Primary Theme: | Native Animals |
| Other Themes: | Waterways, Native Vegetation, Land Use, Soil Health, Sustainable Agriculture, Communities, Climate Change |
| Primary Local Area: | Mornington Peninsula |
| Other Local Areas: | – |
| Project location: | Cerberus to Red Hill South |
| Scale of the project: | Local |
| New or continuing work: | New project/work |
Project partners
| | |
| --- | --- |
| Lead organisation: | Mornington Peninsula Koala Conservation |
| Key partners: | Mornington Peninsula Shire Council, Parks Victoria, Dept of Defence, IFAW, Yulgilbar, 15 Trees, One Tree Planted, Landcare Victoria and many local businesses and private sponsors |
| Registered Aboriginal Party/s relevant to the project or its area: | Bunurong Land Council Aboriginal Corporation |
Investment opportunities
| | |
| --- | --- |
| Opportunities for investors within this project start from: | $$ (Tens of thousands of dollars) |
| Estimated scale of investment for full project implementation: | $$$ (Hundreds of thousands of dollars) |
| Estimated timeframe for full project implementation: | 2-10 years |
Contribution toward targets
| | |
| --- | --- |
| Primary Regional Catchment Strategy target and contribution to its achievement: | Diversity of native animals – Maintain the diversity of native animal species in the region from 2021 to 2050 and ensure the populations are sustainable, secure, healthy and resilient |
| Relevant Biodiversity 2037 goal: | Protect or assist one or more critically endangered or endangered species/community of native vegetation or native animal |
| Relevant National Landcare Program priority: | Soil, biodiversity and vegetation – Projects that will protect and enhance on-farm remnant native vegetation |
More information
Web: Mornington Peninsula Koala Conservation. Facebook: Mornington Peninsula Koala Conservation Insta: mp_koalas