Returning sea floor habitat for the health of the bay
Port Phillip Bay contains a wide range of marine habitats like leafy seagrass meadows, hard temperate coral outcrops, colourful sponge gardens and vast underwater sandy plains. A hundred years ago it was also home to extensive oyster and mussel reefs that supported a huge range of other sea life including fish, crabs, sea squirts, snails and sponges. Sadly, after many years of over exploitation, pollution, introduced species and disease, these shellfish reefs disappeared.
Since 2015, the Nature Conservancy has been working with a range of partner organisations to rebuild Port Phillip Bay's shellfish reefs. So far, 19 shellfish reefs across four locations have been rebuilt using 340 tonnes of recycled shells. The Nature Conservancy has plans to continue to expand the reefs and in more locations across the Bay. In 2021 The Nature Conservancy are restoring a further 5 hectares of shellfish reefs in Port Phillip Bay as part their national Reef Builder initiative.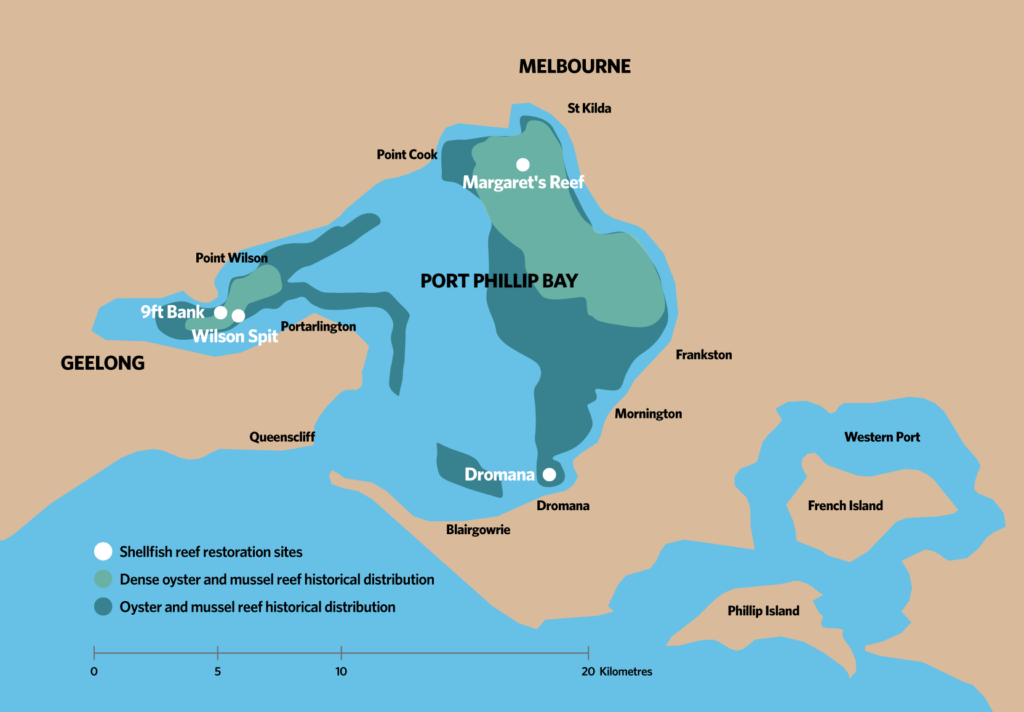 Themes and Local Areas
| | |
| --- | --- |
| Primary Theme: | Marine environments |
| Other Themes: | – |
| Primary Local Area: | Port Phillip Bay |
| Other Local Areas: | – |
| Project location: | This project will work in appropriate sites in Port Phillip Bay |
| Scale of the project: | Landscape |
| New or continuing work: | New project/work |
Project partners
| | |
| --- | --- |
| Lead organisation: | The Nature Conservancy |
| Key partners: | University of Melbourne, Deakin University, VRFish, OzFish Unlimited, City of Greater Geelong, Australian Shellfish Reef Restoration Network |
| Registered Aboriginal Party/s relevant to the project or its area: | Wurundjeri Woi Wurrung Cultural Heritage Aboriginal Corporation, Bunurong Land Council Aboriginal Corporation, Wadawurrung Traditional Owners Aboriginal Corporation |
Investment opportunities
| | |
| --- | --- |
| Opportunities for investors within this project start from: | $$$ (Hundreds of thousands of dollars) |
| Estimated scale of investment for full project implementation: | $$$$ (Millions of dollars) |
| Estimated timeframe for full project implementation: | 2-10 years |
Contribution toward targets
| | |
| --- | --- |
| Primary Regional Catchment Strategy target: | Marine habitat – The extent and health of the various marine habitat types in Port Phillip Bay is retained and improved from 2021 to 2050 |
| Relevant Biodiversity 2037 goal: | Protect or assist one or more critically endangered or endangered species/community of native vegetation or native animal |
| Relevant National Landcare Program priority: | – |
More information
Visit The Nature Conservancy's website on Restoring Shellfish Reefs in Port Phillip Bay