Restoring the landscape from north to south
The Pyretes to Long Forest Biolink area has a diverse range of landscapes, covering two bioregions (Central Victorian Uplands and Victorian Volcanic Plains) and five endangered/vulnerable ecological vegetation classes. The area encompasses the Lerderderg State Park – Pyrete Ranges, Merrimu Reservoir and Long Forest Conservation Nature Reserve. These natural assets connect to the basalt plains which have been predominately cleared for agriculture and housing. However, there are still pockets of remnant grassland and grassy woodland communities of varying quality, scattered throughout the landscape.
The biolink area has a well-established continuous vegetation link from the Pyrete Ranges to the north, and Long Forest to the south. It hosts over 400 indigenous plants and over 17 species that are considered rare or threatened. However, the area is experiencing the incremental loss of biodiversity within these vegetated areas from erosion, pest weeds and animals, and unsuitable land management decisions adjoining these large natural assets.
The biolink project proposes to engage and assist land managers with identifying high priority areas for restoration works. In addition, landholders adjoining these high value areas and roadsides will be engaged, and where deemed appropriate and within the project budget, will be invited to access on-ground assistance.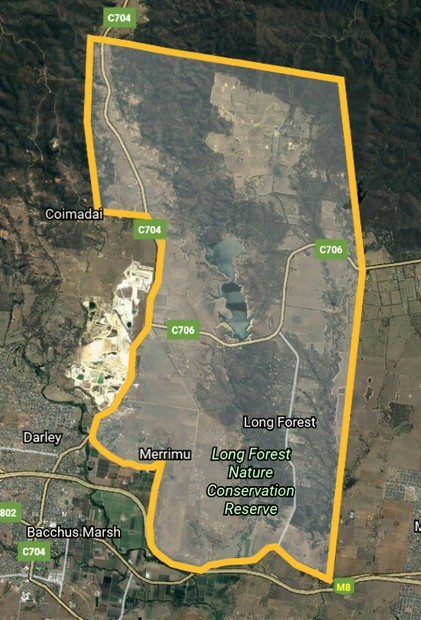 Themes and Local Areas
| | |
| --- | --- |
| Primary Theme: | Native vegetation |
| Other Themes: | Native animals |
| Primary Local Area: | Moorabool, Melton, Wyndham & Greater Geelong |
| Other Local Areas: | – |
| Project location: | The Pyretes to Long Forest Biolink project is located to the west of Melbourne and encompasses the Lerderderg State Park – Pyrete Ranges, Merrimu Reservoir and Long Forest Conservation Nature Reserve |
| Scale of the project: | Landscape |
| New or continuing work: | New project/work |
Project partners
| | |
| --- | --- |
| Lead organisation: | Melbourne Water – through the Grow West program |
| Key partners: | Parks Victoria, Southern Rural Water, Moorabool Shire Council, Regional Roads Victoria, Moorabool Landcare Network, Friends of Werribee Gorge & Long Forest Mallee |
| Registered Aboriginal Party/s relevant to the project or its area: | Wurundjeri Woi Wurrung Cultural Heritage Aboriginal Corporation, Wadawurrung Traditional Owners Aboriginal Corporation |
Investment opportunities
| | |
| --- | --- |
| Opportunities for investors within this project start from: | $$ (Tens of thousands of dollars) |
| Estimated scale of investment for full project implementation: | $$$ (Hundreds of thousands of dollars) |
| Estimated timeframe for full project implementation: | 2-10 years |
Contribution toward targets
| | |
| --- | --- |
| Primary Regional Catchment Strategy target: | Major new biolinks – Significant, sustained revegetation programs have been undertaken from 2021 to 2050 and have created numerous major biolinks in priority locations across the region |
| Relevant Biodiversity 2037 goal: | Revegetation of priority areas for connectivity between habitats |
| Relevant National Landcare Program priority: | Soil, biodiversity and vegetation – Projects that will protect and enhance on-farm remnant native vegetation |
More information
Visit the Grow West website