Protecting one of Victoria's most significant saltmarsh communities
The Spit Nature Conservation Reserve and the adjoining Big Marsh are some of the most significant areas of saltmarsh in Victoria due to the diversity of the site's flora and vegetation. The majority of the Big Marsh area falls within the Port Phillip Bay (Western Shoreline) and Bellarine Peninsula Ramsar Site, a wetland of international importance. In the 1980s, the area was an important feeding area for the now critically endangered Orange-bellied Parrot (Neophema chrysogaster), at times being a reliable overwintering site for half the population. However, the diversity and general condition of saltmarsh vegetation, particularly in the upper saltmarsh, is understood to have declined since and Orange-bellied parrots are no longer observed.
Working in partnership with Parks Victoria and Melbourne Water, this project proposed to undertake hyrdological improvements and habitat restoration works to restore this significant saltmarsh community and hydrological regimes.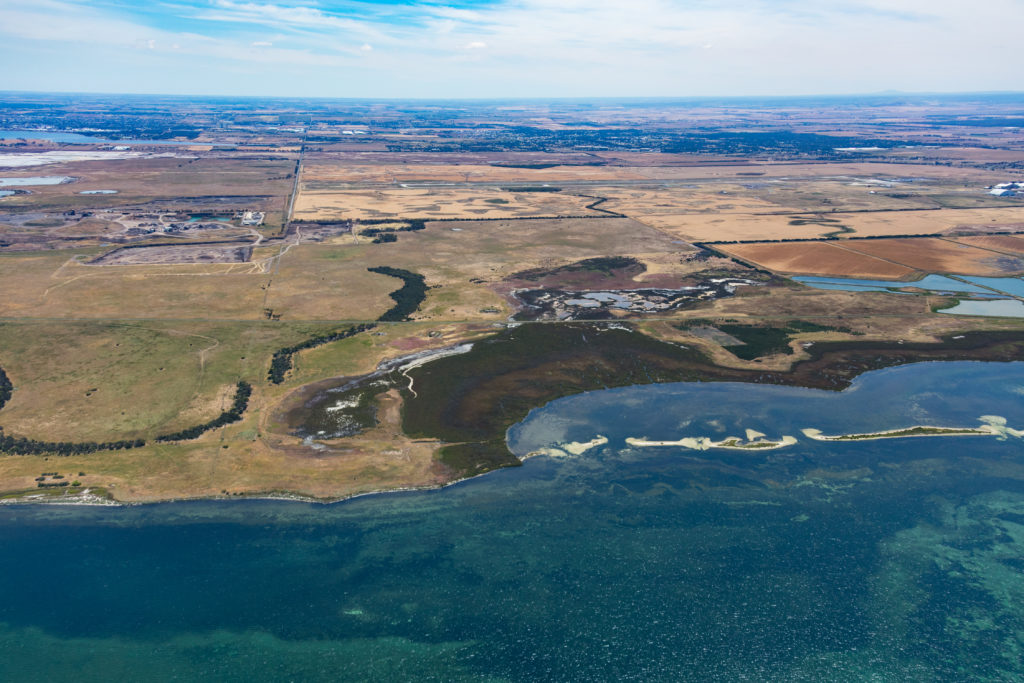 Themes and Local Areas
| | |
| --- | --- |
| Primary Theme: | Wetlands |
| Other Themes: | Native vegetation, Native animals |
| Primary Local Area: | Moorabool, Melton, Wyndham & Greater Geelong |
| Other Local Areas: | Port Phillip Bay |
| Project location: | This project is located within The Spit Nature Conservation Reserve and adjoining Big Marsh which are part of the Port Phillip Bay (western shoreline) and Bellarine Peninsula Rasmar site |
| Scale of the project: | Local |
| New or continuing work: | Continuing/building on previous work |
Project partners
| | |
| --- | --- |
| Lead organisation: | Melbourne Water |
| Key partners: | Parks Victoria, Department of Energy, Environment and Climate Action (DEECA), Nature Glenelg Trust |
| Registered Aboriginal Party/s relevant to the project or its area: | Wadawurrung Traditional Owners Aboriginal Corporation |
Investment opportunities
| | |
| --- | --- |
| Opportunities for investors within this project start from: | $$$ (Hundreds of thousands of dollars) |
| Estimated scale of investment for full project implementation: | $$$ (Hundreds of thousands of dollars) |
| Estimated timeframe for full project implementation: | 1-2 years |
Contribution toward targets
| | |
| --- | --- |
| Primary Regional Catchment Strategy target: | Ramsar wetlands – The ecological condition of the Port Phillip Bay (western shoreline) Ramsar wetland is maintained or improved from 2021 to 2050 |
| Relevant Biodiversity 2037 goal: | Protect or assist one or more critically endangered or endangered species/community of native vegetation or native animal |
| Relevant National Landcare Program priority: | Ramsar wetlands – Port Phillip Bay (western shoreline) |
More information
Andrew.Morrison@melbournewater.com.au